It is 100 days today until the Opening Ceremony of the World Cup. Of course, in our timezone, that will be tomorrow morning, but New Zealand time is sooner to it. In fact, it is only 97 days until I get on that train to Heathrow, and away we go. It's awful to wish your life away, but on such a stupendous trip, it is inevitable.
Over the past month I've started to plan the itinery. With time limited to see and do things in the South Island (a week has been lost there, and gained in the North Island) means that I've had to cram it in as much as possible to make sure that I see and do as much as possible. (Sleep - what's that?)
Most of the time, I'll be around the south of South Island, especially around Dunedin.
I am particularly looking forward to the games in the new Otago (Forsyth Barr) Stadium. Its 70m high glass ceiling, and glass walls must make it the biggest greenhouse in the world. England play 3 games there, Argentina, Rumania and Georgia. I've never seen Georgia, so maybe as well as collecting stadia, I should start collecting rugby teams. There is a small technical hitch though, I've not found anywhere to park the camper van.
I've also included a trip to Christchurch in the itinery. Part of it is morbid curiousity to see how badly its been damaged. It was such a lovely city, and I hope that they decide to re-build the historic centre as was, rather than re-build an ultra modern centre. I also feel a sense of obligation to spend some money there. With games moving, and people scared to travel there, the businesses will need a boost. From there I've booked a balloon flight over the Canterbury Plains.
From there we will also go on the Trans
Alpine
Train over to Greymouth and back. I've been told that you become blase about the scenery. 'Oh look, another snow topped mountain'.
We will go on a scenic rail
journey from
Christchurch
to
Arthurs Pass
and
Greymouth
, passing though the Southern Alps from one coast of New Zealand's
South Island
to the other. We will start off seeing the fields of the Canterbury Plains and farmland, followed by the spectacular gorges and river valleys of the Waimakariri River. The train stops at the alpine village of
Arthurs Pass
for a short break before descending to the West Coast, through lush alpine beech rain forests to
Greymouth
.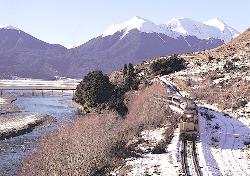 The journey is 223.8 kilometres long and takes just four and a half hours. There are 16 tunnels, and 5 viaducts, the highest being the Staircase standing at 73 metres. I can think of a regular follower of this blog rolling her eyes at these stats, as her husband would probably be quoting these off by heart.
Over at Te Anau, I've booked to go to Doubtful Sound rather than Milford Sound. Big call perhaps, as Miford Sound has always been on my bucket list. So many people have, however, told me that Doubtful Sound is quieter, the trip to it being stunning in its own right, that I've opted for that one.
http://www.lonnawilliams.com/DoubtfulSound247X5.jpg
The above is a stunning view - I don't think that there is a 'loser' in this. Whilst at Twizel, we're going on a Glacier boat, where you are taken right to the glacier's edge. The Tasman Glacier is the only glacier that ends in a lake in New Zealand, and you get to go 'up close and personal' - not with the same end result as the Titanic I hope. At school we were told that 70% of icebergs are underwater, and they are breakaways from glaciers so should be interesting.
I must have a fixation with Glaciers - must have been from my first year at grammar school Geography lessons with Nancy Jones, as Cwms, Tarns, and Corries, mixed with Arretes and Hanging Valleys first got me interested in geography - 88% in my first year exam - I think the highest I've ever got in an exam, and one I didn't revise for because I just knew it. Alpine geography is the Ice Age revisited, and she used to take off her jacket to demonstrate how the peaks were formed by moving her jacket around on her desk, with these huge Margaret Rutherford boobs. I will be reading my geo-morphology text book again before the trip!! The fixation continues with a 4 hour walk up Fox's Glacier. When you google that for a picture to show my blog readers, up pops a certain blue bag of mints with a polar bear on top. Not quite what I was looking for.
For a bit more of an adrenelin rush, we'll be going Jet Boating on the Shotover River. 360 degree turns means that the camera will stay in the camper van, and I'll be purchasing the expensive picture that I will inevitably have my eyes closed on as a souvenir of the visit.
Copyright has stopped me putting more pictures on the blog - google some of these sites - the views are immense. I can promise you this though, I won't be Bungey Jumping in Queenstown, I'll leave that to the real adrenelin junkies, having watched my son do it off Auckland Bridge, was enough to get my heart racing, but I will be taking in the karma of the place as the New Age capital of the world.
New Zealand lacks a bit of culture and history. Inevitable when you are less than 200 years old as a country. Dunedin is part of that culture, and history, and whilst there, I can make a comparison with Edinburgh, see the photos and artworks in the railway station and walk up the steepest road in the Southern hemisphere. I may even take a trip around Cadbury's factory (why leave Birmingham?) and Speight's Brewery (why leave Burton?).
Planning the itinery has been incredibly exciting, as people have been suggesting do's don'ts and what can be done in the time. My next planning is for the North Island - as some of my volcanic geo-thermal geography will be called into action. Who said three years studying geography in Aber wouldn't come into use at some point?
The FInal Countdown - Europe. I must really stop picking these pompous rock songs to illustrate my blogs - people will get the worng end of the stick with my musical taste. (But at least its not Abba).